Emergency Pipe Repair Solutions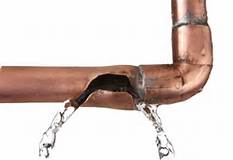 No one wants to think about a ruptured pipe in their home, but it can happen at any time. If you have an older home, the water pipes may be compromised due to age and normal wear and tear. All it takes is an increase in water pressure or a stubborn clog stressing the pipe for a rupture to happen. San Francisco Plumbing and Rooter wants you to be prepared in case this happens to you.
Before You Call for Emergency Plumbing Repair Service
Your first instinct may be to call a 24 hour plumber, but we advise our customers to start by turning off water to the house before calling for emergency plumbing repair service. It's important that homeowners stop water from destroying belongings because this can lead to high repair costs. Find the water shut off valve and then call for repairs.
Fix the Repair Yourself
We don't recommend making plumbing repairs yourself; however, there are instances where it's possible to make minor repairs if you can't call a plumber right away. If the rupture is located on a pipe that is visible such as one beneath the kitchen or bathroom sink, you can use an epoxy product found at home improvement stores to plug the hole temporarily. This solution won't hold for long, so call a San Francisco plumber as soon as possible.
Another water pipe repair solution is to clamp the pipe while you wait for professional repairs. Clamping will keep the water from seeping from the pipe, but it may affect your ability to use the sink.
Short-term Solutions are Not Ideal
When it comes to ruptured water pipes, short-term solutions are not the answer. While they will get you through the interim, it's always best to call a San Francisco plumber for emergency plumbing repair service. Professional repair services guarantee quality workmanship, 100% customer service, and watertight solutions. Call us today to learn more!