Common Sources of Problems that Require Expert Sewer Line Repair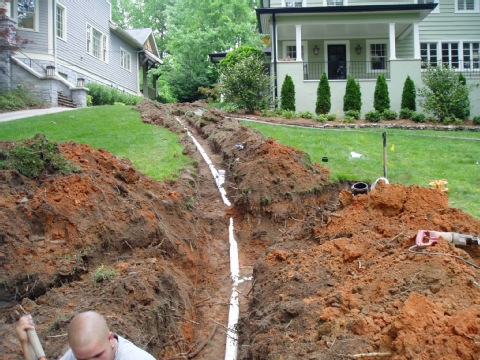 As the primary conduit for carrying waste water away from your home, the main sewer line is a critical part of your plumbing system. Obstructions in this pipe can have severe consequences for all the fixtures throughout the house. Fortunately for the residents of San Francisco, San Francisco Plumbing & Rooter Pros offers complete sewer line repair and other essential solutions to get your system back online.
How Did My Sewer Pipe Get Damaged?
Sewer lines may be buried underground, but that does not make them immune to damage and deterioration. In fact, there are several risks unique to outdoor pipes and plumbing components. There are several sewer issues that homeowners often encounter in the LA area:
Encroaching Tree Roots
Tree roots seek out nutrients and water in the soil, so sewer lines are a common target. Over a long period of time, the roots can actually break through solid metal or plastic piping. Roots can partially obstruct the line and encourage a complete clog by catching material that flows through.
This can also pose a safety hazard by allowing sewer water to escape into the soil.
Sediment or Mineral Scale
Unless your home is equipped with an advanced, whole-house purification system, then there are probably some trace minerals present in your tap water. Combined with dirt and debris washed down the drains, these microscopic particles form layers along the insides of your pipes. This accumulation reduces the effective pipe diameter, which slows down drains and increases the risk of a physical blockage.
Severe Drain Clog
A clog that starts in a single bathroom can cripple the entire system. Wads of hair, foreign objects and other physical obstructions gradually slide through the sewer lines until they reach the main pipe. A complete sewer line clog can completely prevent the use of sinks, toilets and appliances in your home.
Identifying and Solving the Source of Your Plumbing Problems
San Francisco Plumbing & Rooter Pros is a licensed and insured plumbing contractor, so you can rely on us to take care of sewer line repair and related maintenance tasks. Our technicians are equipped with state-of-the-art tools that allow them to troubleshoot your system and find the best solutions quickly. Give us a call for a no-obligation estimate or to schedule a service call for your project!